Asia Pacific Hotel, Beitou, Taipei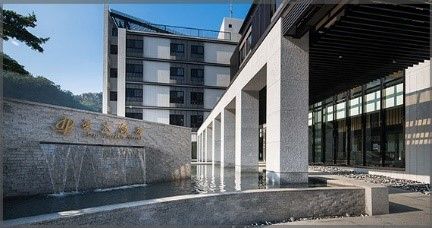 The elegance of Asia Pacific Hotel, Beitou is unique. The architect, Hirosawa Eiichi, cleverly blocked the outside view out of the building, creating Asia Pacific Hotel's exclusive silent beauty of the "Dan-Feng Mountain". The lush mountain forest landscape with occasional clouds is healing and charming. It makes for the best remarks for the "Rest to Nurture the Mind" of the Asia Pacific Hotel, Beitou.
Beitou's first dynamic hotel is built here. It has the nation's first large AR/VR experience area. There is also a myriad of dynamic courses designed by the professional staff, including the Family Swimming Area, water fitness courses and water acrobatic activities to fully implement Asia Pacific Hotel 's, Beitou business philosophy of "Move to Nurture the Body", making Beitou more than just hot springs.
Customer Service: +886-2-2898-3088
From the Airport to Conference Venue (Asia Pacific Hotel)
Taiwan Taoyuan International Airport
By Taxi
By Metro

Time to Asia Pacific Hotel (Conference Venue): 50-60 Minutes

Terminal 1& 2 Taxi Service Center are located outside the Arrivals Lobby.

Taxi Fee: Around NT$ 1,200 (US$ 45)

Time to Asia Pacific Hotel (Conference Venue): At least 1hr 50 Minutes (One Transfer)

Taoyuan Airport MRT to Taipei Main Station → Transfer to Tamsui-Xinyi Line (R Line) → to Beitou Station → Free Shuttle Bus to the conference venue

Metro Fee: NT$150+ NT$ 30= NT$ 180 (US$ 6)
Taipei SongShan Airport
By Taxi
By Metro

Time to Asia Pacific Hotel (Conference Venue): 40-50 Minutes

Taxi rank is located outside the Arrivals Lobby and the road south of the gas station.

Taxi Fee: Around NT$ 430-500 (US$ 14-17 )

Time to Asia Pacific Hotel (Conference Venue): At least 1 hr 25 Minutes (One Transfer)

Wenhu Line (BR Line) to Daan Station → Transfer to Tamsui-Xinyi Line (R Line) → to Beitou Station→Free Shuttle Bus to the conference venue

Metro Fee: NT$ 40 (US$ 1)
Asia Pacific Hotel
No.31, Youya Rd., Beitou Dist., Taipei City 112003, Taiwan